Michigan's two top rivals will play each other in the B1G Ten Championship on Saturday. It will be a match up of strength vs. strength and weakness vs. weakness. OSU has a dynamic running game with Carlos Hyde and QB Braxton Miller vs. MSU #1 ranked defense. MSU's offense is improved but not dynamic vs. an OSU's defense that has given up a ton of points lately.

We will really see MSU's defense tested and if their offense can score points against a questionable Buckeye defense. Dantonio loves Ohio State but I don't expect him to roll over in this game. Sparty should be un-defeated right now but they had a "Sparty" moment against ND and tried a stupid trick play. If MSU plays clean I think they have a great chance to win. I think a strong defense and a offense that doesn't make mistakes will win this game. If OSU can move the ball on MSU's defense, they will win by a couple touchdowns. OSU is a 5.5 favorite.

MSU 20 OSU 17


Recruiting Updates:


Peppers tweeted he will not turn down #2 if offered. That is a pretty good sign he is still bleeding blue. (thanks to the folks in the comments about my miss type). Woodson 2.0 (no pun intended!)
Hoke visits the Mone family and has a huge meal: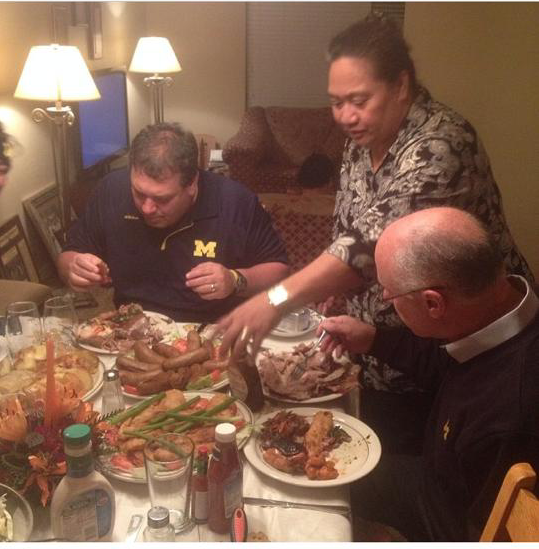 Malik McDowell names a top 7 of Michigan, Michigan State, Ohio State, Florida State, Florida, Albama, and LSU. He will announce at the Army AA game.
Fred Jackson is planning to visit Texas 3 star RB Vic Enwere on Saturday who is a soft commit to CAL right now. The scoop is he might be considering a "flip" to Michigan after Fred visits. Vic is a 2014 class prospect. He is a 6'1 215 pound speed back. (Some of you might be concerned with the number of running backs right now. Next year it will be Green and Smith with Hayes & Norfleet at slot, with Drake Johnson coming off an ACL. Thomas Rawls seems to have fallen way off the depth chart. So there does seem to be an opportunity for a 3rd down back.
Michigan and Alabama were out to see Cincinnati LB Justin Hilliard this week.
The UA AA Game Roster were just released. 7 future Wolverines are playing in the game.