It seems the Miami Heat really wanted Duncan Robinson to join their summer league team:


"That was somebody that Chet went after right away as soon as the draft was over," Heat summer-league coach Eric Glass said of Heat Vice President of Player Personnel Chet Kammerer. "You can see why. Chet doesn't miss on too many guys."


Robinson, who was personally recruited by Heat coach Erik Spoelstra after going undrafted, could be making a case for a two-way contract or even the roster spot held at the end of last season by Babbitt, who again is a free agent.


Duncan is playing well so far: he is averaging 25 minutes a game, 11 points and shooting 62%.


Mo is also playing well and is averaging 27.5 minutes and scoring 15 points per game.


Derrick Walton Jr. is playing 33 minutes per but averaging less then 5 points per game but averaging 5 assists.





One of the best players in the 2019 class is from Ohio and very interested in the Wolverines. Zach Harrison is a 5 star DE from Ohio and has 100% crystal balls to OSU. He visited Michigan and OSU in back to back weekends prior to Nike's Opening and now says "he is as confused as ever". It seems like its a two team race between the Wolverines and the Buckeyes. Both have very good head coaches and great defensive line coaches. One is 20 minutes away from home and another is a few hours: "There are positives and negatives," Harrison said. "The positives are that I'd be the hometown hero. Everybody loves Ohio State, and who's not a Buckeye that lives 20 minutes from Ohio State? The negative is sometimes you just wanna get away from home, be on your own a little bit. When your parents are 20 minutes away that's kind of hard to do." Zach is planning to announce his decision on 8/14 which is his birthday. Zach being confused on where he wants to go, is a positive right now for the Wolverines who still has to convince the 5 star to leave home. The third team he is considering is Penn State.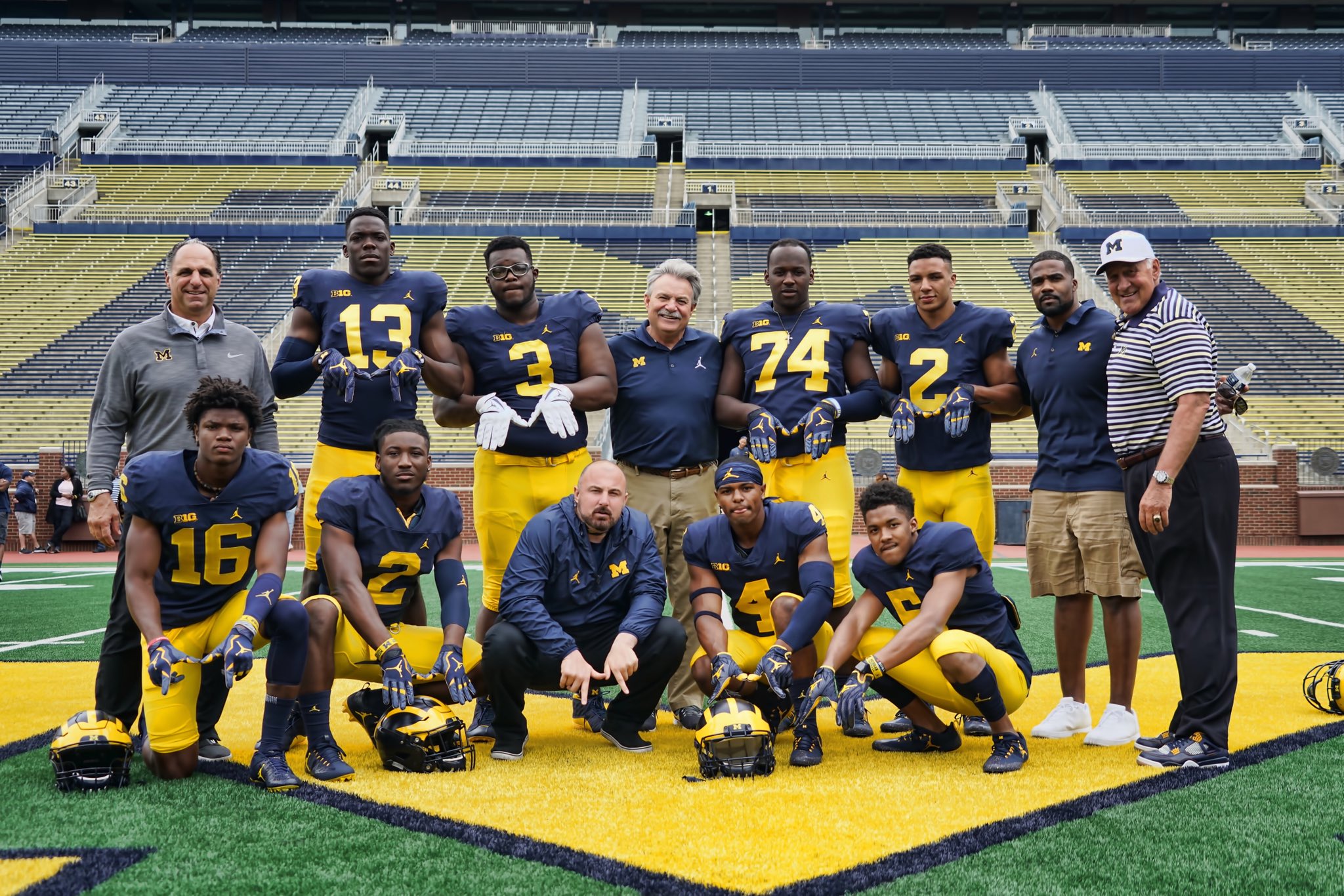 Any guess which number Zach is wearing in the above photo from twitter and Michigan's big June visit weekend?
Yes, he is #13 in the above photo. Yes, Please!