I would be remiss if I didn't mention the OSU blowout loss against Clemson on Saturday night. What we were watching was a replay of the Michigan game minus Watson keeping the Buckeyes in the game.

Here is a classic photo from an OSU fan worrying about the wrong opponent: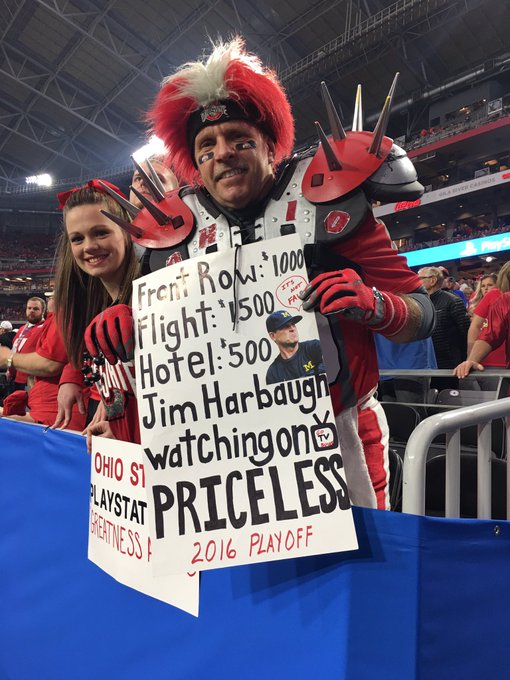 Here is a better sign:

- Dressing up like a 3rd grader on Halloween when your 45 at a football game: $0

- Using a joke from 2006: $0

- Spending a ton of money to watch your team get hit with an historic, blowout/shutout loss = $3000

(I guess he should have watched it on TV?)

-------------------------------

With all the coaching changes in the NFL that happened on Sunday and I'm sure a few today. I wonder if Urban might take a few calls. You never know!


More bad news on the offensive line as David Dawson has decided to take a graduate transfer year next season. David came to Michigan as offensive lineman with high expectations to be a starter around his sophomore year. He struggled with injuries and playing time behind a few under preforming guys. I don't know if it was his injuries or technique but Dave Dawson wasn't seeing the field enough to keep either him or the coaches happy.

His departure is another hit to next years offensive line depth chart that loses a guy that was expected to start as a 5th year senior at the guard position. The only guy left and now officially #1 on the depth chart at guard is Mike Onwenu. This has to be a great selling tool for Jimmy to convince a few recruits in the last month of the 2017 recruiting cycle to jump on board.

His departure doesn't increase the number of players expected to sign for the 2017 class. Right now it's looking like around 30 guys.



Here are a few recruiting updates:


The UA game was yesterday and Michigan had a few guys playing but one guy really stood out, as Rivals named him one of the top 10 players of the game:

Luiji Vilain:

Michigan needs Vilain to be a pass rusher off the edge, and that's exactly what he did on Sunday. He didn't end up with any sacks, but he had three hits on the quarterback and forced some bad throws. Vilain also made some athletic plays towards the sideline, keeping ball carriers from turning the corner and getting down the field.
The latest rumblings on Aubrey Solomon are that he is heading to Alabama. Not great news for a guy that was once committed to Michigan.
The news on OT Chuck Filiaga has been all over the place, reports were early yesterday that he is heading to Oklahoma and then we got some news maybe it was looking good for Michigan later in the day. The word on Chuck is that he could be a "ready to play" level OT that might not be a future superstar but could fill a hole next season. Still no word on when he is announcing. Michigan needs this guy badly at this point.
Najee Harris is expected to finalize his decision between Alabama and Michigan this week at the Army All American game. My guess is the TV producers would prefer that he share that decision during the game.
I know these deals are in place probably for weeks, but Don Brown signed a new 5 year contract at over a $1M a year. It was just bad timing to announce that contract a day after his unit has its worst performance of the year.