We are now less then a week away from the busiest day on the Big House Blog, which is National Signing Day. This weekend is important, because recruits rarely sign somewhere without taking a visit. So if there is a mystery guy or two out there they will probably be in Ann Arbor this weekend.

Considering that its a bit unlikely we hear any new names, lets look at the last recruiting board for the Wolverines.

5 Star DT Aubrey Solomon - We know this story and what happened at the Army game. He plays at huge position of need and his Crystal Balls prediction on 24/7 is 50% to Michigan, 31% to Alabama. He has said as late as last week, that Bama leads.

Mattison and Partridge in home with Aubrey today.

4 Star WR Nico Collins - Michigan has seemed to have lead for Nico, since this past summer, Georgia has been coming on really strong and many feel Michigan might have lost their lead. The Crystals say 50% Michigan, 37% Georgia. Reports are that Bama is not being considered.

Harbaugh and Hamilton in home with Nico today

.
4 Star WR Oliver Martin - He was very high on Michigan early and then Michigan backed off a bit due to numbers. Michigan now has been putting on a full court press on the young man. This seems like a really wildcard recruitment at this point, His Crystal Balls are 65% to ND and 30% to Michigan. If he comes to A2 this weekend, I think Michigan might be the pick.
2/3 Star S Ifeatu Melifonwu is a Syracuse commit and has been on campus since Tuesday and is expected to leave today. Don't worry about his star rating, his brother was a 2 star that Don Brown recruited to UConn and now is heading to the NFL after starting for 4 years. I think Michigan has a great shot to flip him.
Here are my assumptions with the final board.
4 Star LB Willie Gay - He has had Michigan his leader for most of his recruitment, LSU has been making a huge leap and Miss State is also making a play. Many believe now that Michigan is trailing and there could still be admission issues. There is also some noise that Willie doesn't like that Michigan got a number of other LB recruits in this class. The Crystal Balls are 48% to LSU, 40% to Miss State, 8% to Ole Miss, 4% to Michigan.
OL Mekhi Becton will head to VA Tech. Here is a photo from Jimmy's visit earlier this week. That is not exactly an excited face. Crystal Balls are 75% to VA Tech, 17% to Michigan.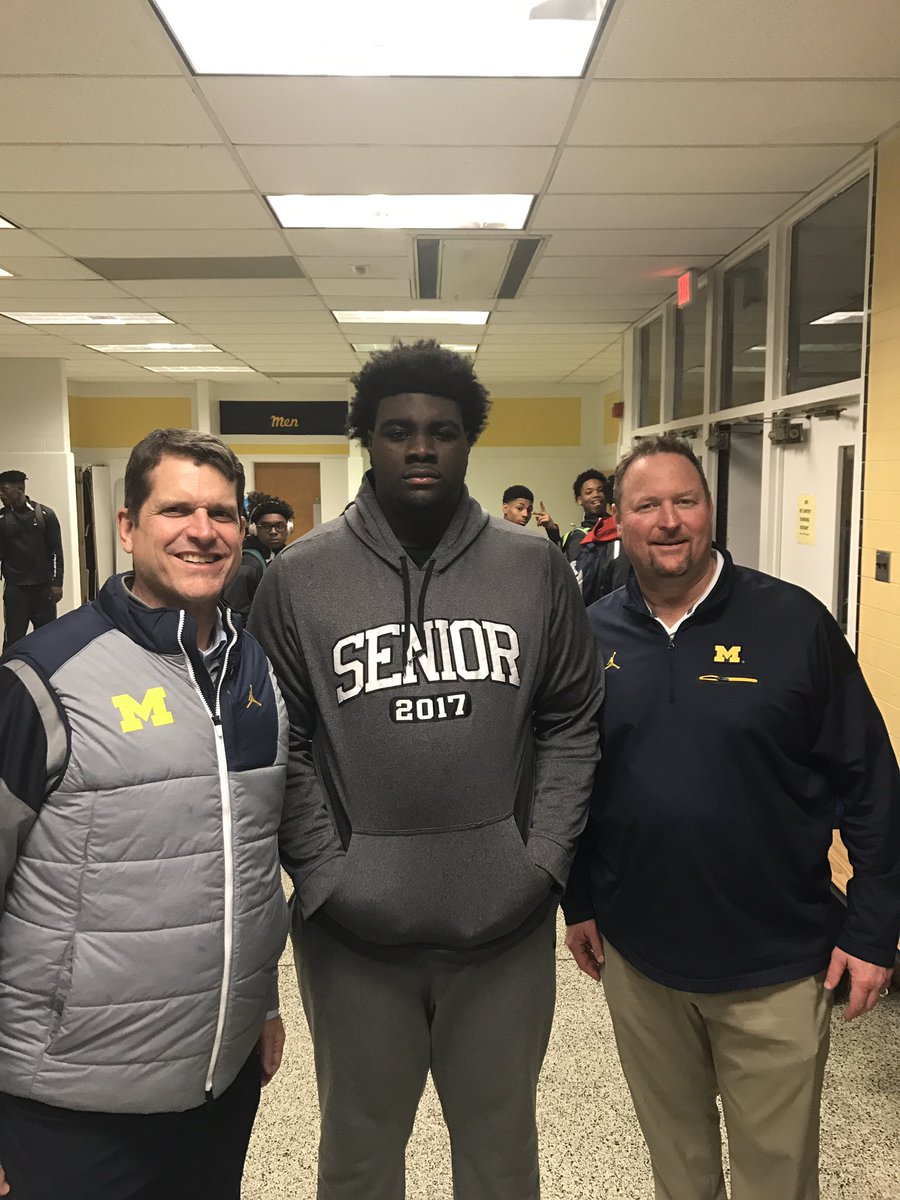 DT Jay Tufele will go to Utah. CB's 75% to Utah. None for Michigan.
VA LB Ellis Brooks - Michigan didn't make it in home this week and he will not be visiting A2.
None of the guys on the board are Michigan locks and many can go either direction and change their minds on Wednesday. This is going to be a wild finish and Michigan could get many or none.
------------
Remember OL Erik Swenson? He de-committed from Michigan late in the recruiting cycle last year and said that Michigan no longer wanted him. Well, a writer from Chicago, thought it would be fun to bring it back up again after Erik signed with Oklahoma. This time Jimmy went on the record. Per Jimmy, Erik was asked to come to Michigan's camp (because he committed to Hoke) so the coaches could evaluate him - he declined. Then Jimmy asked if he could come out to the Indy camp - he declined again. Erik told him to evaluate this senior year tape, which was poor and Jimmy and Coach Drevno asked him to look around. It seems the communication wasn't clear and that Erik, his family and HS coach were surprised in December when Coach told them there probably wouldn't be a scholarship for him. Jimmy agrees that there was miss communication and that is on him. Hat tip to coach for answering the questions like a man and not running from a poor situation. If your wondering, this happens at many schools. Of course we don't want it to happen at Michigan but with the coaching change it did.
NBA News- GR3 will be in the dunk contest and LeVert had a highlight cross over dribble last night that is making the rounds.