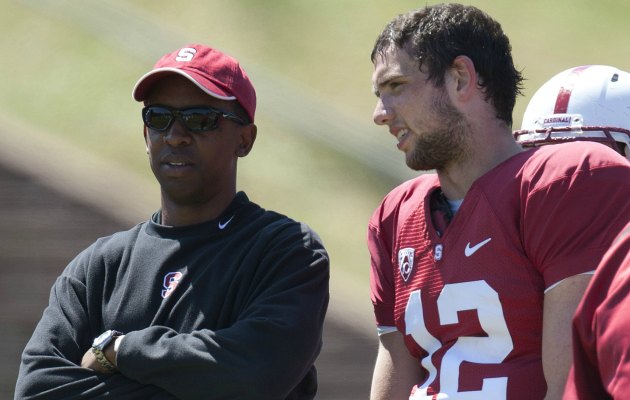 cbssports.com
Of course, I predicted that Michigan would just look for a WR coach to replace Jedd Fisch. Jimmy again surprised me and hired one of the most regarded offensive coordinators in the business. ESPN is reporting that Pep Hamilton the assistant head coach of the Cleveland Brown has accepted the Jedd role at U of M.
Pep was Jimmy's OC at Stanford and stayed on and was the OC for David Shaw. The Colts came calling and he had a couple of good years for them before getting let go during an Andrew Luck injury year. When Hue Jackson took the Browns job he hired Pep as the assistant head coach and OC role. The Browns were pretty terrible this year, but Pep did turn Pryor into a pretty good WR, which is pretty rare at his stage of his career. Hue also didn't want Pep to leave but I'm guessing he feels he has a better shot at a head coaching role under Jimmy then he does in Cleveland.
Teammate of Tarik Black and current BC commit, CB Brandon Sebastian will take an official to Ann Arbor this weekend. If there is a committable offer on the table, I wouldn't be surprised if he flipped this weekend.
That was quite a NC game last night. Clemson looked like a fish out of water in the first half but found it's game in the second half and it's quick tempo and 99 plays clearly made the Alabama defense tired. Glad to see the Evil Empire get beat.
There are some rumors floating around that Coach Wheatley might be a candidate for the WMU job.
I have no idea what is going on in Aubrey Solomon's recruitment. After the video that was released, I thought there was zero chance he would be coming to Ann Arbor. There seems to be some Michigan momentum since that video was released and Aubrey called the coaches to apologize. His final 4 are Michigan, USC, Georgia and Alabama.