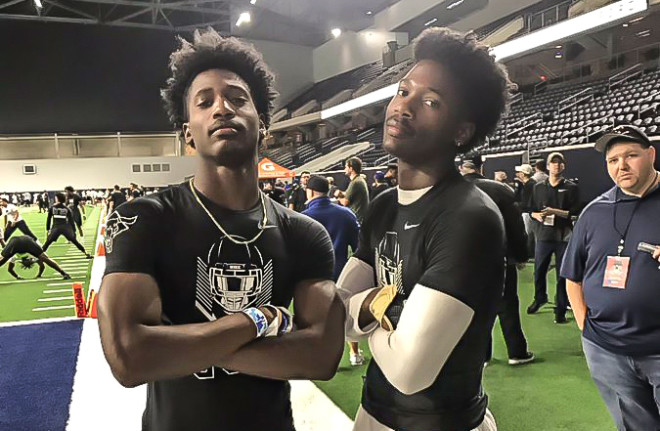 maizeandgoblue.com
This one caught me a bit by surprise when Texas DB Twins Gemon and German Green both committed to the Wolverines on Thursday. This is a unique situation where both brothers wanted to play together at the next level and one brother (German) is coming off an ACL injury where he missed his entire junior year.
As we know, the junior year is the most important recruiting year there is. Sometimes the senior year is just a throw in. German missed his junior year and now is an under the radar recruit. I wonder if there is a way to compare his skills and measurables? :-)
Gemon is a 4 star CB to Scouts and ESPN, Rivals and 24/7 rank him as a 3 star. Both players are 6'2 and 170
+
pounds. German is a 3 star across the board (outside of ESPN who doesn't even rank him). As you might expect, Gemon had more offers which included the likes of Oklahoma, OK State, Texas, Texas Tech, Oregon, Colorado, Wisconsin, and others. German did have some offers which included Colorado, Houston, OK State, SMU and Tennessee.
Both are long CB's which Jimmy and Don Brown love. Both guys could play CB or Safety at the next level. They both play at Texas powerhouse Desoto who won the State Championship last year. I'm betting Jimmy is getting some major points for offering both brothers mostly with German coming off an ACL and not having any snaps on tape in over a year.
This class is now pretty filled at DB (with Sims, Reese and the Green brothers). With the exception of this weeks visitor S Shayne Simon from NJ who is for sure a take for the Wolverines.
I didn't want to kill the speed of the site with two videos, so I linked both here:
Gemon's 2016 highlights
German's 2015 highlights
I look forward to confusing both guys in secondary for the next 4-5 years. German is still recovering from his ACL but is healthy enough to participate in Spring Ball and has been going to the camps in Texas.