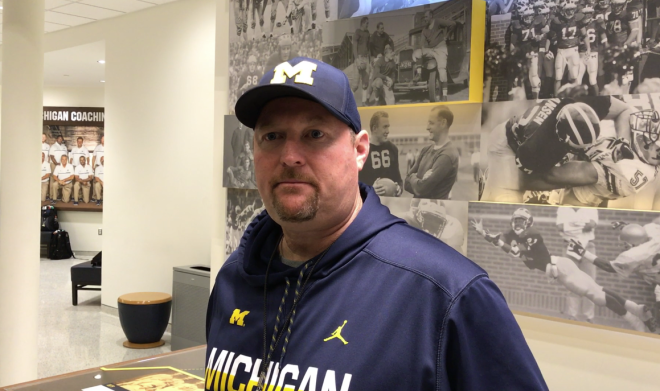 michigan.rivals.com
One of the things I love about the internet is that you can be on the ground floor of something that might happen. A great example was that Brian at Mgoblog was the first to report Lloyd Carr was retiring. He had that information days before the Detroit papers or even ESPN. The Internet of course can also produce lies and reckless speculation.
This information right now is just message board material but it might be something or nothing.
Fact - Zach Drevno, Tim Drevno's son has committed to Vandy (I believe as a walk-on) as a long snapper. Zach is a member of the 2018 recruiting class.
Speculation is that Tim will follow Zach to Vandy and will have a role on Derek Mason's staff. -Just a rumor at this point.
Michigan insider, Sam Webb has speculated that there are more staff changes to come.
Is this something or nothing? Hard to tell at this point but we should see soon. BTW: Drevno leaving for Vandy wouldn't help with Michigan's recruitment of Rice OT transfer Calvin Anderson.
Update: Its happening folks!!!
SOURCES: OC Tim Drevno is stepping down at

#Michigan

. The Wolverine Lounge first reported the news.

— Bruce Feldman (@BruceFeldmanCFB) February 23, 2018
Former OSU and Minnesota OC Ed Warinner is expected to be named the offensive line coach. No word on the OC, probably Pep or the Shark lover.
----
This FBI/Yahoo/SI Basketball Investigation is going to continue to find out information. The latest report includes MSU star Miles Bridges.
Steve Lorenz at 24/7 is saying that Michigan has 38 offers out in the state of Georgia for the 2019 class.