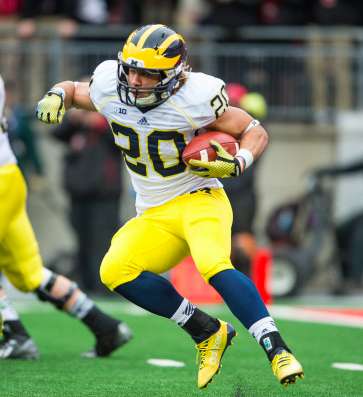 maizeandgoblue.com
In an un-believable report it seems that Drake Johnson got hit by a forklift in the Track and Field building. Sam Webb has confirmed that he was hurt and the details are coming in from internet, which of course are just rumors. The internet is saying he was stretching with headphones on and the forklift was carrying a load. The driver could not see Drake and ran in to him. The extent of his injuries are not known.
.

@umichfootball

statement:

On Wednesday an accident occurred at the indoor track & field building involving student-athlete Drake Johnson

— Sam Webb (@SamWebb77) April 14, 2016
Continued: "He was evaluated by a U-M Athletic Department Team Physician and was referred to the U-M Health System for further evaluation."

— Sam Webb (@SamWebb77) April 14, 2016
I hope he is doing well as it sounds like he is in the hospital. I'm sure we will get more details as they come available.
Jimmy at the Migos concert, I guess he was also on stage.