Let me clear up a few things from my post yesterday:

Denard did attempt a pass. I missed it because it was so hard to see the jerseys or who was under center.
The Clowney hit was a missed assignment by the Michigan TE when Lewan called out the blocking assignments. He didn't hear the call and it caused a turnover. Ted Dunn asks in the comments how I could blame the OC for a missed block? That is a fair question, but my answer is; coaches didn't throw at Charles Woodson when he was at Michigan. You don't run to Clowney side for any reason. Just for the reason what might happen did. Michigan had also just got a call (which was equal to a turnover) and had some momentum, that is the time to call a special play not a Vincent Smith dive play right at the best player in college football. Lewan's full game blocking of Clowney (who didn't have a very good game before the highlight hit) got noticed and secured his spot as a 1st rounder.
I forgot to mention the field goal block in the special teams solid play.
I would like to expand on the praise for the Michigan WR's during the game. Michigan seems to lose WR's and DB's like they are going out of style. Gallon and Dileo have given me hope for next year. If Chesson and Darboh develop during the summer, we should be in good shape.
I'm reading a lot of complaints on Devin's accuracy issues in the passing game. I tend to disagree, yes he did miss some wide open WR's but we have to remember he was a WR to start the year and has only started 5 games at QB. He did make some really good throws and scrambled for first downs when he couldn't find a WR. If he gets his redshirt year, his mistakes (holding the ball too long, over throws, etc.) can be fixed. With his strong arm and another 5 star QB in the wings, the future is bright for the position.
Derrick Green took this picture with the Michigan commits at the Army game. Let's hope this is a good sign. He isn't planning on announcing at the game but says he has the strongest "coach" relationship with Brady Hoke and Michigan has a slight lead. If he watched the Outback Bowl, I hope he understands the opportunity he has here.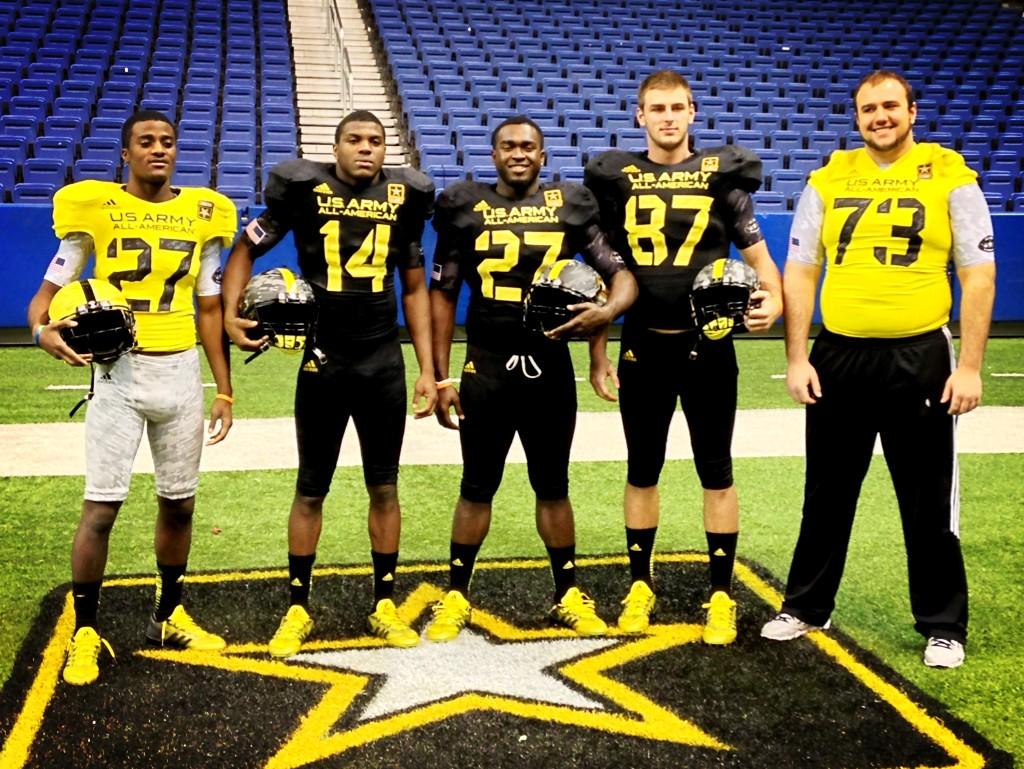 Don't hold your breathe on Leon McQuay, he is planning on announcing on Friday and says only FSU has accepted him (right now) for early enrollment. There are questions if there will even be a Michigan hat on the table.
Under Armour OT Cameron Hunt is excited about Michigan and his visit on 1/11. He is verbal commit to CAL right now. There is twitter buzz from some of the Michigan commits that he has a shot at becoming a Wolverine.
The Michigan Outback uniform debacle is making the noise even louder for Michigan to go back to Nike when the Adidas contract comes up for renewal.
The Outback Bowl got a 5 viewer rating which equals what the baseball playoffs got. The Rose Bowl got a 10.