Michigan has some big time donors including Dolphins owner Stephen Ross who have given U of M over a hundred million dollars. The business school is named after him for goodness sakes but I'm not sure there is anybody that has supported Michigan Football more than Jed York the CEO of San Francisco 49'ers. He replaced one of the best coaches in football with Jim Tomsula and yesterday fired Jim Tomsula after one year. Anyone want to bet he doesn't hire another head coach with the first name Jim?

Thank You Jed for supporting Michigan Football!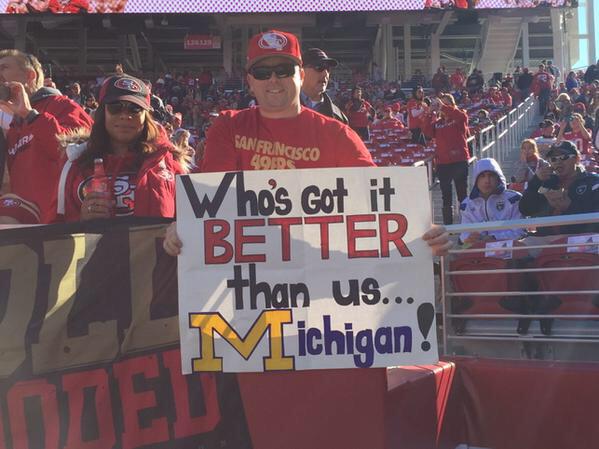 Michigan didn't have a great Under Armour game with recruits. Michigan had moved on from OG Terrance Davis as they wanted a Tackle and as expected he picked Maryland. The biggest surprise wasn't much of a surprise as Texas OL Jean Delance picked Texas over Michigan as well. His Mom wanted Jean to stay home and that's what he did. The thinking was Jean wanted to go to U of M but mom wanted him to go to UT. A sign that was happening was that Michigan offered MD OL Stephen Spanellis, a Virginia commit before the Citrus Bowl. On a side note, Gary dominated!
Speaking of Texas offensive lineman. There is a rumor (more of a whisper at this point) that Michigan might have a shot of flipping 5 star TX lineman Greg Little. Greg is committed to Ole Miss right now. This could just be a little internet buzz, so we will keep an eye on it. Greg is 6'5 and 318 pounds and ranked the #1 Tackle by Rivals.
Gary is also expected to spend another January weekend in Ann Arbor with his good friend Peppers and soon to be enrolled Kareem Walker. This is big news because Gary has already used his "official" visit to A2 and this visit will be on his own dime. He is still planning a NSD announcement.
There is also a rumor floating around that if Indy lets go Chuck Pagano, Michigan would offer him a defensive consultant role. I assume Chuck would find a role in the NFL pretty quickly.
Something to ponder: Was the Big Ten Championship game held in A2 after Thanksgiving when OSU played Michigan? OSU was by far the best team in the Big Ten, MSU looked like they didn't have any game plan against Alabama and Iowa looked like they were just happy to be in the Rose Bowl. I don't think Michigan would have beaten either Bama or Stanford, but I believe they would have competed much better then State or Iowa did. MSU beating OSU at home with two back-up QB's makes zero sense.