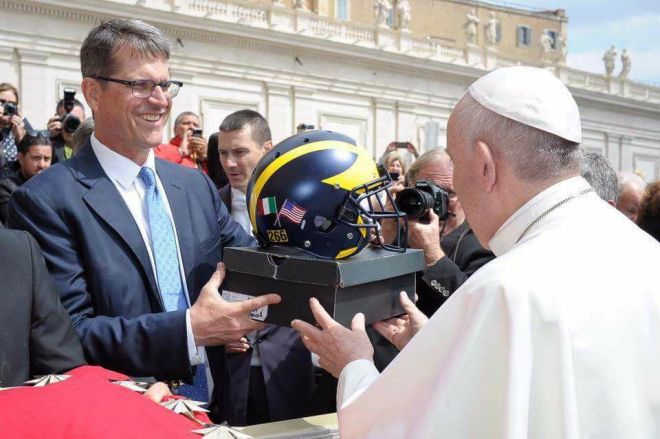 TheWolverine.com
Jim Harbaugh met the Pope today and gave him a Michigan helmet and a pair of Jordan's. Another proof point (if you needed one) that our head coach is a rock star.
They took a tour of Rome including the Coliseum and played paint ball yesterday. What a great trip for the entire team.
— angelique (@chengelis) April 26, 2017
The rumor mill on twitter is saying that Michigan is trying to get out of the agreement to do a home and home with the University of Washington in 2020 and 2021.
Grant Newsome tells

Angelique that he was minutes away from losing his leg. I have seen serious football injuries before but I don't recall ever seeing one so serious that a player might lose his leg. Thank goodness that didn't happen.
Current Michigan fan and former NY Yankee Derrick Jeter is part of the ownership group that is trying to purchase the Miami Marlins. How many of us would have signed up for Jeter's life?
It's being reported that ESPN will layoff 100 employees today. 50% of the cut is expected to be on air talent.