When you sign players on NSD you hope there isn't anything that happens before they make it to campus. There could be any type of issue like academics, injuries, etc. Reports are that all the 19 guys reported last weekend and will participate in freshman orientation this summer as they prepare for Fall Camp in a month.


Donovan Jeter took to Instagram to show off the freshman DL class!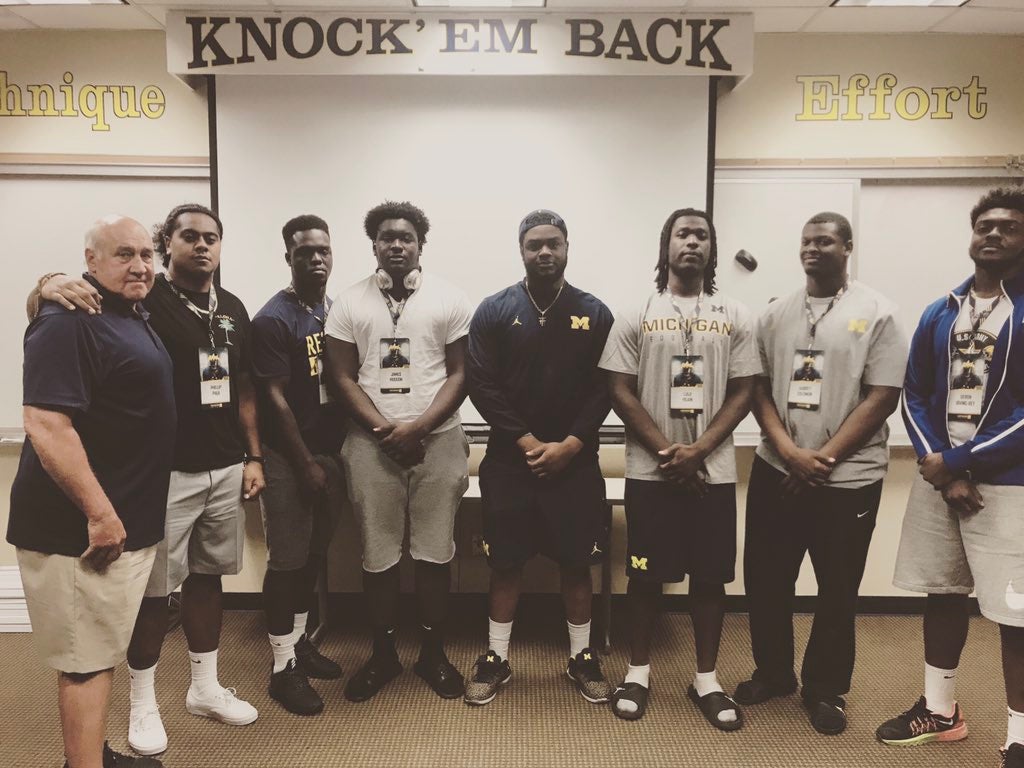 D. Jeter Instagram
Hopefully, we remember this picture as being the very beginning of a dominant defensive line.
2018 Indianapolis Cathedral offensive guard Emil Ekiyor participated in Michigan's Big Man Camp this weekend and is 100% committed to the Wolverines.
Michigan commits Jalen Mayfield and Aidan Hutchinson also participated in the Big Man camp.
2019 OT Trevor Keegan participated in the Big Man camp and was quickly offered by the Wolverines this weekend. Trevor is one of the top players in Illinois in the 2019 class.
2019 Five-star DE Zach Harrison visited ND and Michigan this past weekend.
2019 IMG's RB Noah Cain who is ranked one of the best players in the 2019 class, visited Ann Arbor for 3 days this past weekend with former Wolverine RB David Underwood.
2018 4-star C Tyrone Sampson from Detroit, participated in Michigan's Big Man camp. Tyrone is committed to Syracuse. I wonder if the Michigan coaches liked what they saw?
Maybe the best player in Michigan in 2019, Belleville 4-star OT Devontae Dobbs visited Ann Arbor and now knows he is a priority for the Wolverines in the 2019 class.