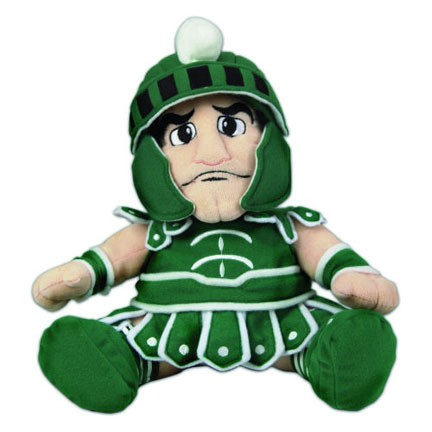 Time:
3:30 EST
Location
: Big House
Weather:
Cloudy/Cold 47
TV:
ESPN
Line
: Michigan -7.5
It's about time. It's about time that both Michigan and MSU have good teams at the same the time. MSU is un-defeated and has been ranked as high as #2 nationally. They are currently ranked #7 due to lack luster performances against poor teams Michigan on the other hand, after an opening loss to #5 Utah is now ranked #12 in the AP. The Wolverines have gotten better on both sides of the ball and each week and the Wolverine D has pitched 3 shutouts in a row. Two out of the three were ranked opponents.
Tale of Tape
MSU D-Line vs. Michigan O-Line = MSU
MSU Secondary vs. Michigan WR/TE = Michigan
MSU QB vs. Michigan Secondary = Push
Michigan D-line vs. MSU O-Line = Michigan
M Coaches vs. MSU coaches = Michigan
Big House vs. Little Brother = Big House
When you lose a top defensive coordinator in Pat Narduzzi to a head coaching job at Pitt and your head coach in a defensive head coach, you wonder who is riding whose coat tails? You can probably say the same thing on the offensive side of the ball for Tom Herman and Urban Meyer. In both examples, both units have struggled at times this year. Is it the loss of coaches or the loss of personnel? Dantonio isn't using injuries as an excuse but they have had plenty of them. Their offensive line is really banged up, on defense they have lost their SAM LB, starting Safety, and both of their CB's are injured. Who will and won't play? Dantonio isn't saying.
Sing Hail to the Victors if.........................
Michigan can run the ball against a talented MSU D-line
Rudock again plays a clean game
Michigan can pressure and get to Cook
Michigan's D shows they are the best unit on the field
Michigan continues to be sharp in special teams
Michigan hits three big plays on offense
Yell, Damn you Sparty! if..................................
Connor Cook proves he is a first round NFL QB
Michigan gives MSU a short field due to turnovers
Mr. Miyagi has healed MSU's injuries
MSU proves why they were the #2 in the nation
Vegas believes Sparty is banged up and not playing well for a top ranked team. Connor Cook and Arron Burbridge have been basically winning games for MSU. State's offense does not make a ton of mistakes and the worst thing that really happens to them are punts. The big key for this game is: can MSU's beat up offensive line stop Michigan's pass rush? If Wormley and Big Willie are in Cook's lap all afternoon, Sparty is in for a long day. State's best defensive players are on the D-line in Shilique Calhoun and Malik McDowell. We all remember Malik's recruitment and his mom not signing the LOI due to hearing Malik wouldn't have to go to class in East Lansing. The Michigan offensive line will have to stop these guys and let Rudock or the RB's get to the next level against State's shaky secondary.
Look for Jourdan Lewis to spell Burbridge all day. I also expect plenty of blitzes from both sides. Which QB can handle the pressure will be an important aspect of this game. Look for a ton of throws to RB's and TE's from both sides. Peppers will again be another important player for Michigan on defense on stopping those short throws.
MSU is beat up and shouldn't win this game, but we all know this is Sparty's most important game of the season. They will play very hard and will keep this game close on defense and by not making mistakes on offense. Michigan's defense is very good and will limit points from Cook and his kitchen staff. I like Butt against State's secondary. I'm very interested in this coaching battle and who out coaches who. My $1 is on Jimmy and staff.
Michigan 24 MSU 13
Time to come home Paul!